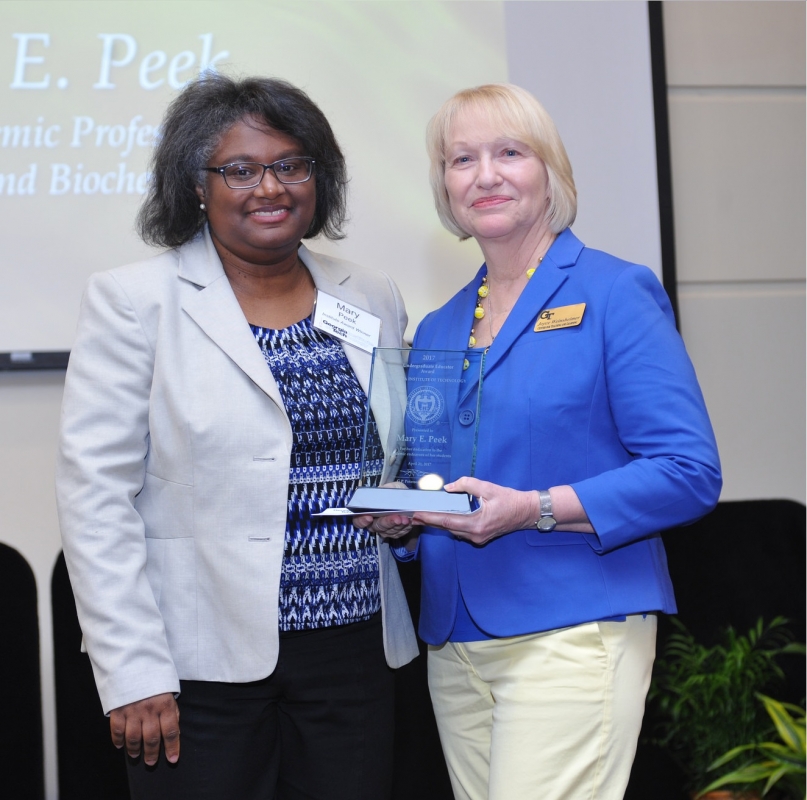 This award, which was offered for the first time in 2009, provides Georgia Tech with the opportunity to recognize the outstanding contributions that non-tenure track faculty make to the education of students on campus. Recipients will each receive $3,000. Up to two awards will be given each year, depending on the quality of the nominations. No more than one faculty member from a college will be selected annually. Note that the selection committee can decide that no award will be given in a particular year.
Questions? Contact Joyce Weinsheimer.
Timeline
Nomination packets are due by 5 p.m. on March 2, 2020.
Awards will be presented at the Faculty/Staff Honors Day Luncheon in April
Names and nomination packets of the award winners will be posted on the CTL Faculty Award website following the Faculty/Staff Honors Luncheon.
Names of winners will be added to the Teaching Awards wall located in the Clough Undergraduate Commons.
Eligibility Criteria
Have non-tenure track faculty status at time of nomination and hold at least a 75 percent appointment.
Completed at least two semesters in a qualifying position at Georgia Tech.
Currently be teaching undergraduate for-credit course(s).
Nomination Process
The nomination packet (which should be no more than 15 pages) should be submitted as a PDF file to Georgia Tech's awards portal: https://gatech.infoready4.com. It should include the following items:
Letter of nomination.
Table of contents for the packet.
Reflective statement on teaching from the candidate.
Illustrations of the candidate's teaching excellence and impact on student learning.
You should solicit five letters of support for your application. These letters of support should be from the following individuals:
*Candidate's department head or chair. (If this person is the nominator, then the nomination letter will suffice.)
*One other colleague who has observed the candidate in the classroom.
*Three undergraduate students, at least one of whom must currently be a student at Georgia Tech.
Selection Criteria
It will be up to the selection committee to set the exact criteria for the award, but it's expected that the committee will consider the following:
Teaching excellence in core courses, required courses, or large classes.
Impact on multiple diverse student populations.
Impact on students' lives, both in and beyond the classroom.
Educational innovations.
Educational outreach beyond the classroom and laboratory.
Accessibility to all students, even those who were not performing well in the class.
Passion about teaching and learning.
Good Georgia Tech citizenship.
---
2020
Benjamin Diden, Lecturer and Assistant Director of Athletic Bands, School of Music (Nomination Packet)
Mary Hudachek-Buswell, Lecturer, Division of Computing Instruction (Nomination Packet)
Dr. Mary Hudachek-Buswell covers a variety of courses taught in the College of Computing at both the introductory and higher level, working with around a thousand students every semester. In working with such a large number of students, Dr. Buswell works diligently with each individual, even individually reaching out to struggling students or who need special accommodations. She's also heavily involved in the computing community on campus beyond her courses as a mentor for undergraduate teaching assistants and for a team in Idea to Prototype, which is a part of the start-up program Create-X, and has served as a judge for HackGT. Further beyond, she teaches a robotics unit to elementary schoolers and gives her computer science students the opportunity to help teach children about computing. Academic Professional Melinda McDaniel referred to her as, "a great role model for me and many others at Georgia Tech who value excellence in teaching."
2019
James Rains, Professor of the Practice Biomedical Engineering (Nomination Packet)
Dr. James Rains came to Georgia Tech with the intent to guide the next generation of biomedical engineers by coaching healthcare startups in the CREATE-X Initiative and leading the BME Capstone program. Dr. Rains is very enthusiastic about helping his students succeed, and he does this by using his experience and connections to help students understand and create bonds in the biomedical industry. Under Dr. Rains' leadership for the past six years, the BME Capstone has ranked the third best in the country and has more healthcare collaborators than any other program in the nation.
Emily Weigel, Academic Professional, Biological Sciences (Nomination Packet)
Dr. Emily Weigel specializes in teaching methods that promote collaboration, ensure authentic science practices, and involve continual assessment. She uses a flipped-class approach--she invites students to become familiar with course content prior to class, then dig deeper into the content through activities in class. Dr. Weigel takes her students beyond the classroom to study Biology too. For example, her students contribute to the US Fish and Wildlife and Environmental Protection Agency's water quality management program in Proctor Creek. Dr. Weigel's approach allows her to engage her students in real-world science, assess their learning, and adapt her teaching in response. The result? Her students learn—and they enjoy Biology!
2018
S. Balakrishna Pai, Walter H. Coulter Department of Biomedical Engineering (Nomination Packet)
Christopher M. Stanzione, Psychology (Nomination Packet)
2017
Mary E. Peek, Chemistry and Biochemistry (Nomination Packet)
Amy V. D'Unger, History and Sociology (Nomination Packet)
2016
Edwin Greco, Physics (Nomination Packet)
2015
Shana C. Kerr, Biology (Nomination Packet)
Michael A. Smith, Scheller College of Business (Nomination Packet)
2014
Michael O. Rodgers, Civil and Environmental Engineering (Nomination Packet)
Chrissy C. Spencer, Biology (Nomination Packet)
2013
Kristin Marsicano, College of Computing
Cianan Russell, Chemistry and Biochemistry
2012
Linda E. Green, Biology
Raghu V. Pucha, Mechanical Engineering
2011
Klara J. Grodzinsky, Mathematics
Wayne E. Whiteman, Mechanical Engineering
2010
Jennifer K. Leavey, Biology
Christine S. Valle, Mechanical Engineering
2009
Mirjana Brockett, Biology
James R. Sowell, Physics