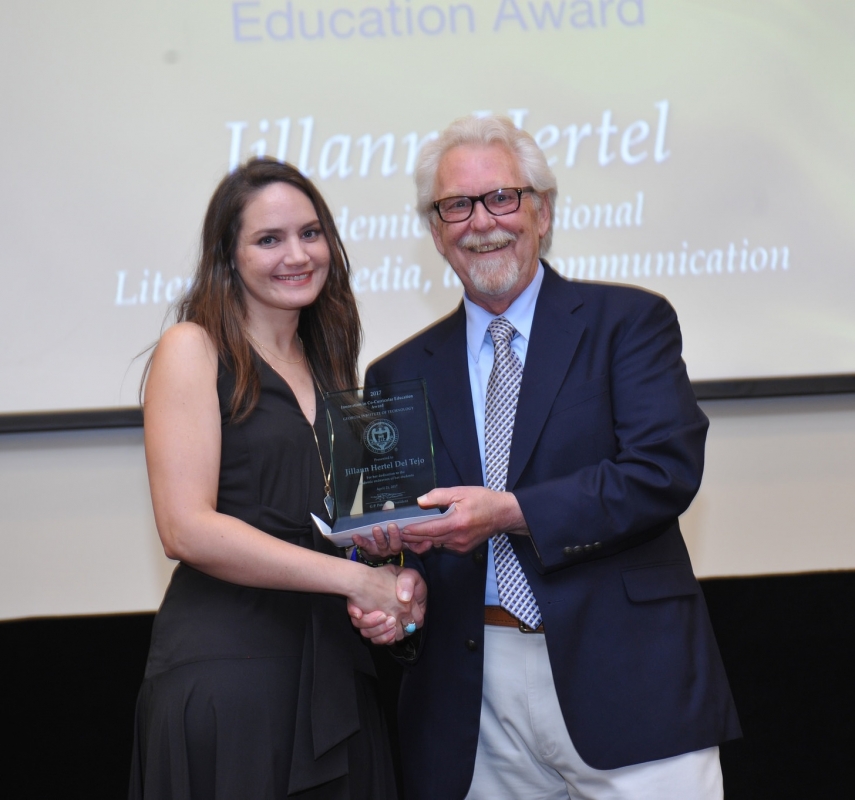 This award is open to full-time faculty of any rank who increase student learning outside the traditional curriculum and help Georgia Tech achieve its strategic goal of graduating global citizens who can contribute to all sectors of society. Initiatives may involve formal or informal out-of-class learning experiences that engage undergraduate and/or graduate students in opportunities to develop respect for other cultures, explore the leadership qualities and ethical behaviors necessary to contribute to society, and/or build on their innovative and entrepreneurial talents in order to have a positive impact on local, state, national and/or international arenas. The award recipient will receive $3,000, with up to one award being given annually.
Questions? Contact Joyce Weinsheimer.
Timeline
Nomination packets are due by 5 p.m. on March 2, 2020.
Awards will be presented at the Faculty/Staff Honors Day Luncheon in April.​
Names and nomination packets of the award winners will be posted on the CTL Faculty Award website following the Faculty/Staff Honors Luncheon.
Names of winners will be added to the Teaching Awards wall located in the Clough Undergraduate Commons.
Eligibility Criteria
Any faculty member of any rank who teaches undergraduate and/or graduate students in for-credit courses who is interested in increasing student learning outside the traditional curriculum.
The faculty member may partner with other campus constituents and educational stakeholders.
Self-nominations are encouraged.
Nomination Process
The nomination packet (which should be no more than 15 pages) should be submitted as a PDF file to the Georgia Tech awards portal: https://gatech.infoready4.com. It should include the following items:
Table of contents for the packet.
Description of the co-curricular initiative, including the objectives, the intended audience, the targeted learning outcomes, and the approach taken.
Description of how the initiative has been evaluated, including documentation of how the objectives were met, the extent to which the learning outcomes were achieved, and the benefits derived from the initiative.
Please solicit five letters of support for your application. These letters of support should be from the following individuals:
*Candidate's department chair and/or appropriate sponsor or partner.
*One colleague who has observed the innovation.
*Three students who have participated in the initiative.
Selection Criteria
It will be up to the selection committee to set the exact criteria for the award, but it is expected that the committee will consider the following:
Fit of the initiative with Georgia Tech's strategic goal of graduating global citizens who can contribute to society.
Ability of the initiative to extend student learning outside the classroom.
Inclusion of hands-on active learning opportunities that give students a chance to work toward, practice, and ultimately achieve the targeted outcomes.
An implementation plan that promotes continued reflection and learning.
An assessment plan that evaluates the impact of the co-curricular initiative on student learning and/or the student experience.
The impact of the innovation on the quality of the teaching and learning environment at Georgia Tech.
---
2020
Yevgenya (Jenny) Strakovsky, Assistant Director of Career Education and Graduate Programs, School of Modern Languages (Nomination Packet)
With dedication to her students, school, and discipline, Dr. Jenny Strakovsky has created a suite of career development programs for both undergraduates and graduate students in line with the Provost's Whole Student Initiative, with a special focus on developing "t-shaped" people who have both a breadth of skills and a depth of knowledge that allows them to be adaptable and engaged in any situation. Her co-curricular programs include three career design studios focusing on self-assessment, career exploration, and job advising as well as "applied humanities labs" which allow students to apply their cross-cultural humanities skills to real local challenges. Professor and Chair of the School of Modern Languages, Dr. Anna Westerstahl Stenport, says Dr. Strakovsky's "efforts have led to a turnaround in the School's entire curricular approach, integrating a much stronger emphasis on 21st century critical skills, whole person education, culture building, and global competencies."
2018 (Nomination Packet)
Kim M. Cobb, Earth and Atmospheric Sciences
Beril L. Toktay, Scheller College of Business
2017
Jillann Hertel, Literature, Media, and Communication (Nomination Packet)
2016
Wilbur A. Lam, Biomedical Engineering, GT/Emory (Nomination Packet)
2015 (Nomination Packet)
Andreas S. Bommarius, Chemical and Biomolecular Engineering
Mark R. Prausnitz, Chemical and Biomolecular Engineering
2014
Jennifer K. Leavey, College of Sciences (Nomination Packet)
2013
Kelly R. Comfort, Modern Languages
2012
Cara L. Gormally, Biology