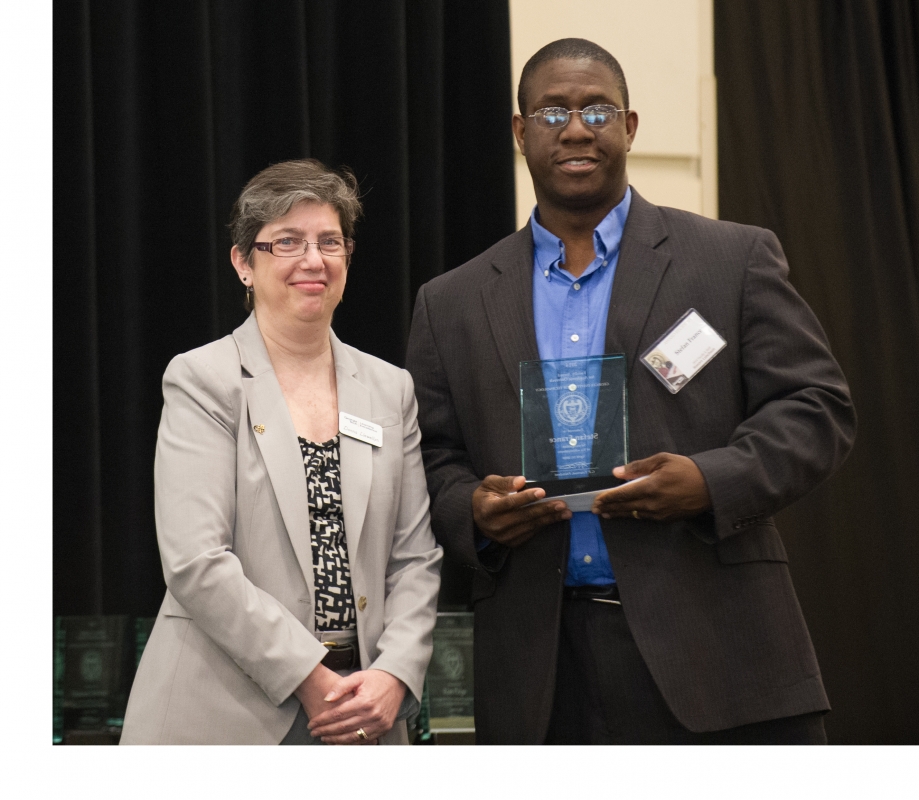 This award rewards faculty members for productive academic outreach in which they go beyond their normal duties to enrich the larger educational community with their subject matter knowledge. The goal is to grant one or two awards annually, depending on the number and quality of nominations. However, no more than one faculty member from any given academic unit will be selected in the same year. The award amount is $3,000. If two awards are given, this sum will be evenly split between the two winners.
Questions? Contact Joyce Weinsheimer.
Timeline
Nomination packets are due by 5 p.m. on February 1.
Awards will be presented at the Faculty/Staff Honors Day Luncheon in April, and winners will be honored at the New Faculty Orientation Dinner in August.
Eligibility Criteria
Candidates must be full-time tenure-track or tenured faculty members.
Self-nominations are permitted.
Nomination Process
The nomination packet (which should be no more than 12 pages) should be submitted electronically as a PDF document to Georgia Tech's awards portal: https://gatech.infoready4.com. It should include the following items:
Letter of nomination or self-nomination.
Table of contents for the packet.
Description, written by the candidate, of the excellence and impact of the outreach activities (no more than four pages).
Three to four letters of support for your nomination. Letters of support should come from::
*Candidate's department head or chair (if this person is the nominator, the nomination letter will suffice for this requirement).
*Two or three letters from those who have observed the candidate's outreach activity. Letters should show why the author feels the projects are meritorious. The writer should be a stakeholder in K-12 education (e.g., teacher, parent, administrator, member of state or county education agency, etc.).
Selection Criteria
This award is for faculty who reach out to establish beneficial partnerships within public and private sectors in education, especially K-12. The point is to use the faculty member's academic expertise to further the learning of K-12 students, teachers, or other educational stakeholders of Georgia. The selection committee will take the following criteria into consideration. (These are well aligned with the National Science Foundation's "second criterion". However, not all of the items below need to be addressed.) The committee will consider whether the project accomplishes the following:
Include educational innovations, especially in K-12 venues?
Show how well the activity advances discovery and understanding while promoting teaching, training, and learning?
Show what the benefits of the proposed activity may be to society in general or locally?
Have significant impact on students' or teachers' lives, both in and beyond the classroom?
Include efforts that produce long-term (multiyear) benefits to K-12?
Reach beyond the Georgia Tech classroom and laboratory?
Show a variety of different activities and venues?
Have activities that are inclusive (that is, with multiple groups of students)?
Demonstrate clear evidence that the outreach has goals that are clearly defined and is productive?
This award and the Education Partnership Award follow the same timeline. So, there may be movement of applications between the two pools, depending on which competition is more appropriate for the application.
---
Previous Winners
2019
Jonathan Clarke, Associate Professor of Finance, Scheller College of Business (Nomination Packet)
For over a decade, Dr. Johnathan Clarke has run the Wall Street on West Peachtree Summer Program, a week-long program that hosts 45 students on the Ferris-Goldsmith trading floor to educate students about financial literacy. High schoolers who participate in this program show significant improvement in fiscal literacy, averaging 30% higher than the national average on the financial literacy exam. In addition, Dr. Clarke has developed a personal finance course for Tech students, and he also hosts a one-day session with the Atlanta Area Council of the Boy Scouts of America in which boy scouts earn the personal finance merit badge.
2017
Manu O. Platt, Biomedical Engineering and Robert M. Nerem, Mechanical Engineering (Nomination Packet)
2016
Thomas Morley, Mathematics (Nomination Packet)
2015
Ellery D. Ingall, Earth and Atmospheric Sciences (Nomination Packet)
2014
Stefan A. France, Chemistry and Biochemistry (Nomination Packet)
2013
Award 1:
Loren Williams, Chemistry and Biochemistry
Award 2:
Michael Knotts, Georgia Tech Research Institute
Jack Wood, Georgia Tech Research Institute
2012
Ionnis Brilakis, Civil and Environmental Engineering
2010
Meghan A. Duffey, Biology
Jake D. Soper, Chemistry and Biochemistry
2009
Edward H. Conrad, Physics