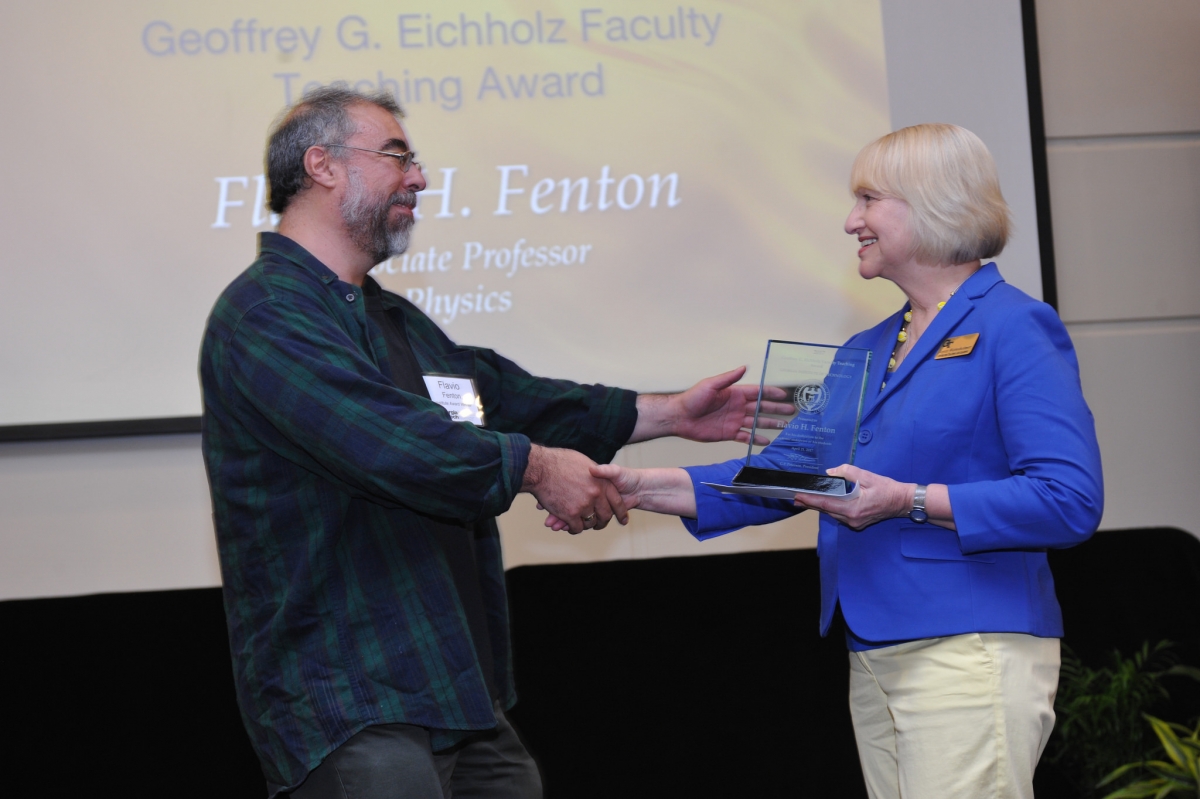 This annual award recognizes faculty who provide outstanding teaching to students in core and general education undergraduate courses. Up to two awards will be given each year, and each recipient will receive $3,000.
This award was established in 2005 through a gift from School of Mechanical Engineering's Regents' Professor Emeritus Geoffrey Eichholz. It was created to reward senior faculty members who made a long-term contribution to introductory undergraduate education and were outstanding teachers for students taking freshman and sophomore core courses. Recently, the award has broadened to recognize faculty at any point in their careers who excel in teaching core and general education courses, and who help students establish a solid foundation for their education at Georgia Tech.
Questions? Contact Joyce Weinsheimer.
Timeline
Nomination packets are due by 5 p.m. on January 31.
Awards will be presented at the Faculty/Staff Honors Day Luncheon in April.
Eligibility Criteria
The primary criteria for this award is excellence in teaching core and general education undergraduate courses. The goal of the award is to honor faculty who are committed to student learning and who make undergraduate instruction a top priority.
There is no restriction on title or rank of individuals who receive this award. Candidates must be 75 percent to full-time employees with an ongoing appointment who have distinguished themselves over a period of time as accessible teachers who challenge and support students in foundational courses at Georgia Tech.
While there is no restriction on the affiliation of the individuals who receive this award, it is expected that the candidates teach core courses that serve all majors at Georgia Tech.
Nomination Process
The nomination packet (which should be no more than 15 pages) should be submitted as a PDF file through the Georgia Tech awards portal: https://gatech.infoready4.com. It should include the following items:
Letter of nomination.
A reflective statement on teaching from the candidate.
Illustrations of the candidate's teaching excellence and the impact on student learning.
Five letters of support for your nomination (these letters are not counted in the page maximum). Letters of support should be from:
*Candidate's department head or chair (if this person is the nominator, the nomination letter will suffice for this requirement).
*One colleague who has observed the candidate in the classroom.
*Three students, at least one of whom must currently be a student at Georgia Tech.
Selection Criteria
Teaching excellence in core, general education, and/or introductory undergraduate courses.
Use of innovative strategies that specifically address the challenges associated with teaching core curriculum, general education concepts, and/or students who are new to higher education.
Evidence of ability to engage, challenge, and support students.
Dedication to student success and accessibility to all students, even those who were not performing well in the class.
Impact on students' lives, both in and beyond the classroom.
Commitment to undergraduate instruction.
Good Georgia Tech citizenship.
---
Previous Winners
2019
Plamen lliev, Professor, Mathematics (Nomination Packet)
For fifteen and a half years, students have praised Dr. Plamen Iliev as helpful and innovative in his work. He's taught nearly every undergraduate course offered in the School of Mathematics, with classes ranging in size from 1 to 400 students. No matter the course or size, he works hard to help everyone understand the content. A student in his Intro to Multivariable Calculus course says, "While the course material was indeed difficult, Dr. Iliev's outstanding teaching and supportive approach greatly facilitated my learning, allowed me to grow and become confident in the material, and was one of the most important and determinative factors that helped me to succeed in this challenging course."
Johnny Smith, Assistant Professor, History and Society and J.C. "Bud" Professor of Sports, Society and Technology (Nomination Packet)
Dr. Johnny Smith created the interdisciplinary program in Sports, Society and Technology, and helped shape a curriculum that challenged students to consider sports as more than just athletics, but as an institution that holds strong political and cultural influence in our world. He pushes them to do more than memorize historical facts, as this student remarks, "He made history into a narrative, and he made me want to listen and understand a real progression of events instead of simply memorize for a test," Many others have reported Dr. Smith's class has transformed their outlook on both history and life.
2018
Teresa K. Snow, School of Biological Sciences (Nomination Packet)
Dong Qin, Materials Science and Engineering (Nomination Packet)
2017
Willam J. Baron, Chemistry and Biochemistry (Nomination Packet)
Flavio H. Fenton, Physics (Nomination Packet)
2016
David Garton, Biology (Nomination Packet)
Ronghua Pan, Mathematics (Nomination Packet)
2015
Raghuram V. Pucha, Mechanical Engineering (Nomination Packet)
Chrissy C. Spencer, Biology (Nomination Packet)
2014
Linda E. Green, Biology (Nomination Packet)
Donald R. Webster, Civil and Environmental Engineering (Nomination Packet)
2013
Edwin Greco, Physics
Robert Kirkman, Public Policy
2012
Douglas Flamming, History, Technology, and Society
Colin Potts, Interactive Computing
2010
Doron Lubinsky, Mathematics
2009
David Collard, Chemistry and Biochemistry
2008
Carol Colatrella, Literature, Communication, and Culture
Jung Choi, Biology
2007
Ronald Bayor, History, Technology and Society
Evans Harrell II, Mathematics
2006
Gordon Kingsley, Public Policy
Michael Loss, Mathematics