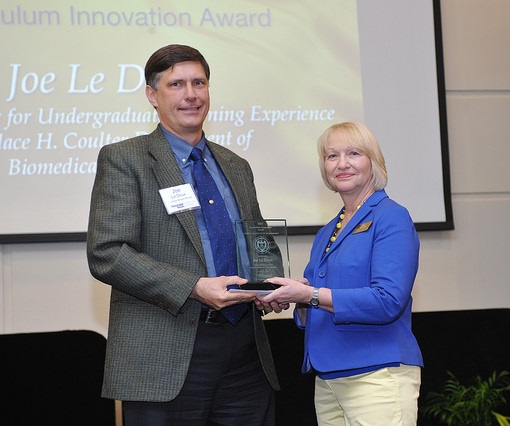 This award recognizes faculty who are improving the quality of education at Georgia Tech through pedagogical and curricular innovation. It is open to full-time faculty of any rank or a team of faculty members who have implemented an innovation in their course or departmental curriculum at the undergraduate or graduate level. Applicants must show evidence that the innovation has been evaluated and has improved student learning and/or the student experience. Preference will be given to innovations that have the potential to be replicated beyond a single classroom. The award recipient (whether an individual faculty member or a team) will receive $3,000, and up to one award will be given each year.
Questions? Contact Joyce Weinsheimer.
Timeline
Nomination packets are due by 5 p.m. on February 1.
Awards will be presented at the Faculty/Staff Honors Day Luncheon in April.
Eligibility Criteria
Any person or team with course or program responsibility for undergraduate or graduate education may apply for this award.
The innovation may involve one course, a series of courses, or a departmental approach to improving the curriculum. The innovation must have been implemented for at least two presentations of a course or for two years of a curriculum.
Self-nominations are encouraged.
Nomination Process
The nomination packet (which should be no more than 15 pages) should be submitted electronically as a PDF file through Georgia Tech's awards portal: https://gatech.infoready4.com/ It should include the following items:
Table of contents for the packet.
Description of the innovation, including the problem or student learning issue it addresses, the objectives of the innovation, the learning outcomes for the intended audience, and the approach taken.
Description of how the innovation has been evaluated, including documentation of how the objectives were met, the extent to which the learning outcomes were achieved, the benefits derived from the innovation, and how they were measured.
Description of the potential for others to adopt or adapt the innovation, including a discussion of how the innovation might be used in other settings and the resources required.
Application should be accompanied by five letters of support; these letters will not count toward the 15 page maximum. These letters should be from the applicant's department chair, one colleague who has observed the innovation, and three students who have participated in the innovation.
Selection Criteria
It will be up to the selection committee to set the exact criteria for the award. It is expected that the committee will consider the following:
Creative features of the innovation.
Impact of the innovation on student learning and/or the student experience.
Ability of the innovation to engage students in the learning process.
Transferability of the innovation and its potential for adoption in other courses.
Impact of the innovation on the quality of teaching and learning at Georgia Tech.
---
Previous Winners
2018
David Joyner, College of Computing (Nomination Packet)
2017
Joe Le Doux, Biomedical Engineering (Nomination Packet)
2016
Karie D. Davis-Nozemack, Scheller College of Business (Nomination Packet)
2015
Tristan T. Utschig, assistant director, Office of Assessment (Nomination Packet)
2014
Amy R. Pritchett, Aerospace Engineering (Nomination Packet)
2013
Chrystal Followill, Georgia Tech Language Institute
Lauren P. Lukkarila, Georgia Tech Language Institute
Karen L. Peterson, Georgia Tech Language Institute
2012
Wendy C. Newstetter, Biomedical Engineering