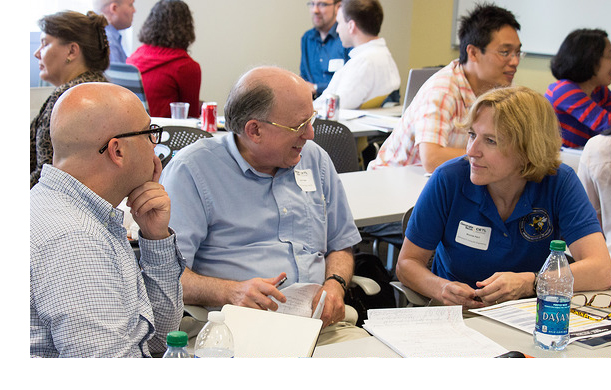 Several times during the fall semester, faculty and postdocs are invited to join CTL for conversations on teaching-related themes, sharing ideas, challenges, resources, and solutions with colleagues from across campus. The atmosphere is collegial and casual, with an emphasis on developing concrete strategies to implement into your teaching right away.
Fall 2016 Schedule
Students Teaching Students
Friday, September 16, 1 to 2 p.m., Clough 469
Learning Assistants, Undergraduate TAs, PLUS Leaders, and Tutors--all are undergraduates helping students learn both in and outside the classroom. What does peer teaching look like on the Georgia Tech campus? How do we prepare, support, and evaluate students who teach students? Join us for a discussion of what currently exists, and what else we might like to create in order to enhance the teaching we provide.
Teaching Large Classes
Friday, October 7, 1 to 2 p.m., Clough 469
The larger the class, the more complicated things can seem. Join us for a conversation about the opportunities and pain points associated with the large class. Share ideas with colleagues, and leave with new ideas to experiment with and implement.
Conducting Research with Your Teaching: Getting Started with the Scholarship of Teaching and Learning
Friday, October 28, 1 to 2 p.m., Clough 469
Have you ever considered engaging in the scholarship of teaching and learning? Join us for a conversation about the benefits, opportunities, and challenges of doing research about your teaching.
Developing Online Teaching Materials for Maximum Impact
Friday, November 18, 1 to 2 p.m., Clough 469
Are you among the many faculty who do or want to create supplemental teaching materials for students to view outside of class? Join us for a conversation about best practices, available tools, strategies for making it work, and more.