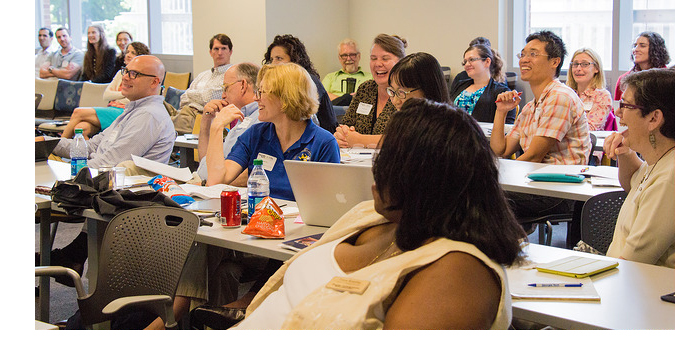 Each fall, just before the semester begins, we gather for a series of interactive workshops aimed at getting you geared up and ready for the first week of class. This year's event takes place on Monday, August 16th. All workshops will be virtual via BlueJeans; you will receive the link once you register. Please register below to attend all day, or to join us as you are able.
Register for Fall Teaching Kickoff 2021
---
Fall Teaching Kickoff 2021 Schedule
Syllabus Clinic for New Instructors
9:00 - 10:30 a.m.
Research shows that the way your syllabus is constructed can affect your students' ability to learn in your class. In addition, making decisions about specific course policies is often a matter of being clear on university-wide rules, then balancing tradeoffs based on your context and style. We invite you to join us, along with a draft of your syllabus, to receive guidance and feedback as you get it ready for the first day of class.

Facilitated by: Dr. Carol Subiño Sullivan, Assistant Director, Faculty Teaching and Learning Initiatives, Center for Teaching and Learning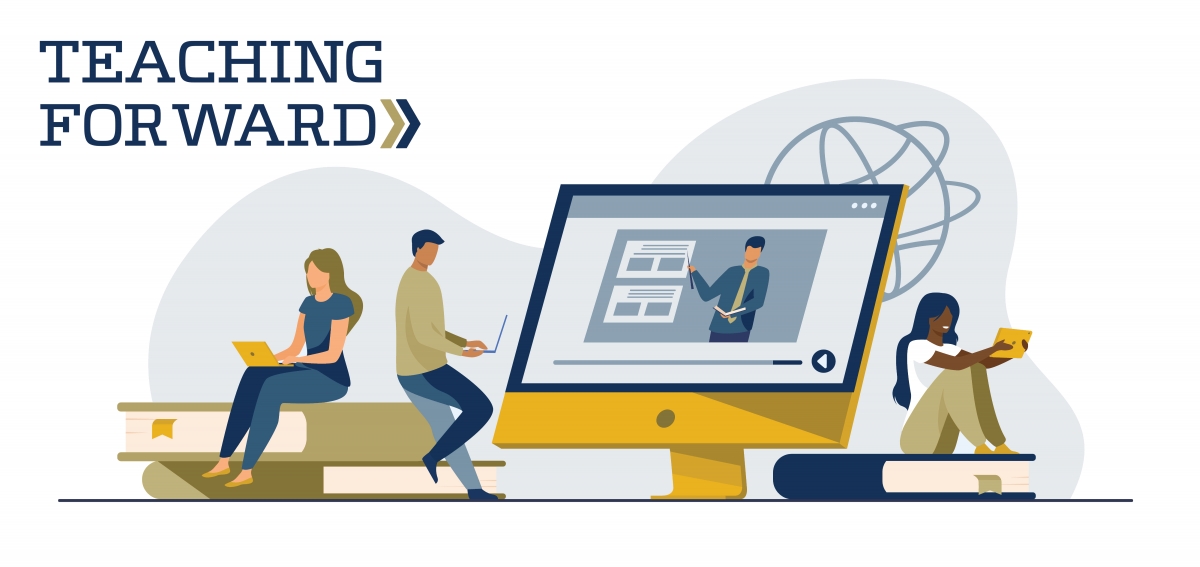 Great Expectations: Returning to Campus Ready Yet Changed
10:45 a.m. - 12:15 p.m.
Beginning anew this Fall is a significant transition for both us and our students, but also an opportunity for deep reflection on what we've learned. How have the events of the past year influenced us, and how might we want to teach differently in order to address issues that have become increasingly important? What's ending, and what will we miss? Why are we gathering again, and what makes interacting in class together worthwhile? What are we looking forward to?
In this workshop, you will connect with teaching strategies designed to help you launch a semester of re-orientation--one that makes the most of where we've been and where we'd soon like to be. This is a chance to freshen your class meetings with active, intrinsically motivating, sticky, and culturally affirming practices--and set your students up for meaningful learning throughout the term.
Dr. Rebecca Pope-Ruark, Faculty Teaching and Learning Specialist, Center for Teaching and Learning
Dr. Joyce Weinsheimer, Director, Center for Teaching and Learning

After Syllabus Day: Making Learning Matter on Day 2
1:15-2:45pm
How can you use compelling dilemmas, issues and questions to get students engaged in your course from the start? How might getting students motivated from the beginning impact student learning throughout the semester?
Caralyn Zehnder and her colleagues write in Learning that Matters: A Field Guide to Transformative Education (2021) that "Dilemmas, issues and questions (DIQs) can be used as a frame for a course. DIQs enhance discipline-specific content by providing students a compelling reason to learn the facts, models, concepts, and practices associated with the discipline. Additionally, they provide a means for students to think deeply about important, complex issues and problems they will face."
Join us to learn more about the DIQ framework, hear examples from colleagues of how they engage their students early on in their courses, and reflect on how you might use the DIQ framework to motivate student learning in your course from the start.
Dr. Carol Subiño Sullivan, Assistant Director, Faculty Teaching and Learning Initiatives, Center for Teaching and Learning
Teaching Forward: Creating Inclusive Learning with Technology​
3:00-4:30p.m.
Over the course of the last 18 months, we've learned a great deal about teaching and learning in different environments and found new technologies that engage students in multiple, more inclusive ways. Online discussion and collaboration tools as well as the chat feature in videoconferencing platforms have opened up new opportunities for all students to effectively participate in class, so how do we leverage the benefits of learning technologies like these in face-to-face courses? In this session, we will focus on tools integrated into Canvas including Ed Discussion and Annoto and explore options for using these inclusive collaborative technologies in the day-to-day classroom experience.
Facilitated by:
Mr. Samba Diop, Instructional Technology Professional, Office of Information Technology
Dr. Rui Hu, Learning and Technology Specialist, Center for Teaching and Learning
Dr. Rebecca

Pope-Ruark

, Faculty Teaching and Learning Specialist, Center for Teaching and Learning
---
Past Teaching Kickoff Sessions
Creating Conditions for Well-Being in Georgia Tech's Learning Environments (Fall 2019)
Students arrive at Georgia Tech expecting to flourish--most are learners who typically have exceeded everyone's expectations. Not long into the term, however, these same students experience high levels of stress; they question their ability to "deliver" and wonder about their "fit" at Georgia Tech.
In response to issues of student well-being, Georgia Tech, like many of our peer institutions, is creating new units dedicated to our students' health. While these units provide essential expertise in social, physical and psychological support for students, their focus seldom addresses the impact of pedagogy or learning environments on students. Research indicates, however, that faculty and the choices we make about classroom culture, course design, assignments, and assessment have the potential to make a significant contribution to student well-being.
Within the context of teaching and learning, what fosters well-being in learners? What conditions are present in a learning environment that promote student well-being? Join your colleagues to explore course policies and teaching strategies that support student learning and well-being--and share your own experiences as well. Working together, we hope to develop a toolkit that can be used by Georgia Tech instructional staff across the disciplines.
Facilitated by: Dr. David Lawrence, Associate Director, Center for Teaching and Learning and Dr. Joyce Weinsheimer, Director, Center for Teaching and Learning
Smarter Feedback: Providing Enhanced Feedback through Digital Technology (Fall 2019)
When it comes to providing feedback through digital means, Georgia Tech has no shortage of tools that instructors can leverage to deliver feedback to their students. The challenge becomes selecting the tools that will work best for your class and determining how to utilize its features to their fullest so that you can focus on creating quality feedback that is enhanced by technology rather than hampered by it. Join us in this session where we will discuss the various types of feedback you can provide and explore a variety of digital tools you can use to optimize your time while providing students with engaging feedback. Facilitated by:Dr. Vincent Spezzo, Learning & Technology Specialist, Center for Teaching and Learning.
Graduating Global Citizens: A Roundtable Discussion ​(Fall 2019)
Achieving Georgia Tech's strategic goal of graduating good global citizens is far from an easy proposition. As our current government steps away from international agreements and denies the results of the scientific community, how can we encourage our students to create solutions to global grand challenges? In the face of political pressure to prioritize national interests above all, how can we empower our students to maintain a sense of global responsibility? And, when a portion of public rhetoric explosively asserts white supremacy, how can we use our classrooms to help students seek diversity and develop the skills necessary to deftly navigate cultural contexts?
We at Georgia Tech can be proud of our exceptionally high rate of study abroad participation and our signature programs across colleges. Because 60% of our undergraduates come from Georgia, however, it's possible for our Atlanta-based students to never experience global perspectives. What more might we intentionally do to prepare our students to live and work in a globalized and culturally diverse world?
We invite you to join the Center for Teaching and Learning and the Office of International Education for a roundtable discussion of how we can foster the development of good global citizens in our on-campus courses. We welcome your ideas as we envision our next steps!
Facilitated by: Ms. Amy Henry, Executive Director, Office of International Education, Dr. Carol Subiño Sullivan, Assistant Director, Faculty Teaching and Learning Initiatives, and Dr. Joyce Weinsheimer, Director, Center for Teaching and Learning
Little Actions, Big Impact (Fall 2018)


We all bring "content" expertise to the courses we teach—yet providing an environment conducive to learning seems to grow more difficult each year. Join your colleagues for a lively discussion of classroom dynamics and the challenges that occur when you encounter a diverse array of students who are all bright and expect to succeed. You'll get ideas that will help you respond thoughtfully to student expectations, special requests, and microaggressions when they occur. Best of all, find out how the little actions you take throughout the term can help you enjoy teaching—and have a big impact on your students as they engage with your course content! This workshop will be facilitated by Dr. John Stein, Vice President for Student Life and Brandt-Fritz Dean of Students Chair and

Dr. Joyce Weinsheimer, Director, Center for Teaching and Learning

Leveraging Canvas to Create Engaging Learning Experiences (Fall 2018)


With the introduction of Canvas as a new learning platform at Georgia Tech, instructors have the opportunity to rethink new ways of leveraging technologies to support effective teaching and student engagement. Canvas has many potential options and knowing how to get the most out of them will help you become more efficient and effective in teaching. Join us in this session to explore feasible strategies that you could implement in using Canvas to create engaging learning experiences beyond the classroom.

Inspired Teaching: Integrating Methods from Outside My Discipline (Fall 2017)


Across the disciplines and over the years, different teaching methods have been adopted and developed -- sometimes because that's what works best for a certain type of content, and sometimes because that's just what we do. Featuring contributions from

Dr. Frank Clark

and

Dr. Annalise Paaby

, we will focus on ways to expand our thinking about how we teaching, drawing on methods used in music and fine art instruction, athletics, gaming and competition, and more. Join us to explore new ways to do new things with your teaching!

Making the Most of your Learning Space (Fall 2017)


Classrooms impose both opportunities and limitations that instructors can make use of when designing strategies for engaging students in active learning. In this workshop, we will explore ideas for making the most of the classroom features available in order to employ effective teaching practices to help students solve problems, master concepts, analyze data, and more. At the workshop, you will also get the chance to experience Boggs B5, one of the most recently renovated lecture halls on campus, designed to make teamwork and collaboration easier in large classes.

Developing and Assessing Major Assignments (Fall 2016)
Major assignments are an important part of many courses because they give students the opportunity to synthesize and apply what they have learned over the course of the semester. However, students often struggle with understanding expectations, developing effective processes for completing the work, and collaborating with group members. In this workshop, participants will get the opportunity to develop materials about their major assignments to help set students up for success. Participants should bring in a description of one major assignment they intend to assign students in a course during fall 2016.
Beyond Think-Pair-Share: Conducting Productive and Engaging Discussions in Every Course (Fall 2016)
Whatever you teach — whether it's literature, mathematics, heat transfer, organizational behavior, or anything else in the Georgia Tech catalog — getting students to think and talk about what they are learning, as they are learning it, is a great way to increase and deepen their learning, correct errors before they are transferred to long-term memory, and generally heighten student engagement and interest in a course. In this session, we will explore strategies and best practices for incorporating and managing discussions in your classes, regardless of discipline, class size, room setup, and more.
Small Changes in Teaching: Big Impact, Little Effort (Fall 2016)
There are plenty of small changes we can make in our teaching to powerfully and positively impact our students' learning. For example, the simple use of an advance organizer to lay out your goals for the day can affect how students manage the content covered during a particular class. Join us as we explore a series of small changes that you can make to impact your students throughout the fall 2016 semester.
Syllabus Clinic (Fall 2015, Spring 2016, Spring 2017, Fall 2018, Fall 2019)
Research shows that the way your syllabus is constructed can affect your students' ability to learn in your class. Bring a draft of a syllabus and receive guidance and feedback from your colleagues as you get it ready for the first day of class.
Snow, Flu, and Other Hardships: Managing Courses in the Face of Interruptions (Spring 2016)
Unexpected campus closures due to weather or other incidents cause major disruptions to our carefully planned courses, causing us to get behind in content and scramble to find time to make up class time and exams. This is also flu season where we face the elevated possibility that we and/or our students may have to miss class due to illness. This workshop will explore the options available to faculty in order to minimize interruption of teaching and learning during such situations. What technological tools are at our disposal to help keep the learning happening even when we can't get to campus? What considerations should we keep in mind about expecting students to access materials remotely? What techniques are effective at helping students get back on track after a disruption?
Making the Most of the First Day of Class (Fall 2015 and Spring 2016)
What can you accomplish on the first day of class? Come learn about the importance of the first day for setting a productive tone for the course, establishing clear expectations, and building student motivation.
Tweet This! Creating a Tech Strategy that Really Works (Fall 2015)
The array of technology options available for use in your classes can seem overwhelming at times, and sometimes it is difficult to know how best to leverage those options. Join us for an interactive session focused on helping you leverage technology for positive gains in the classroom.