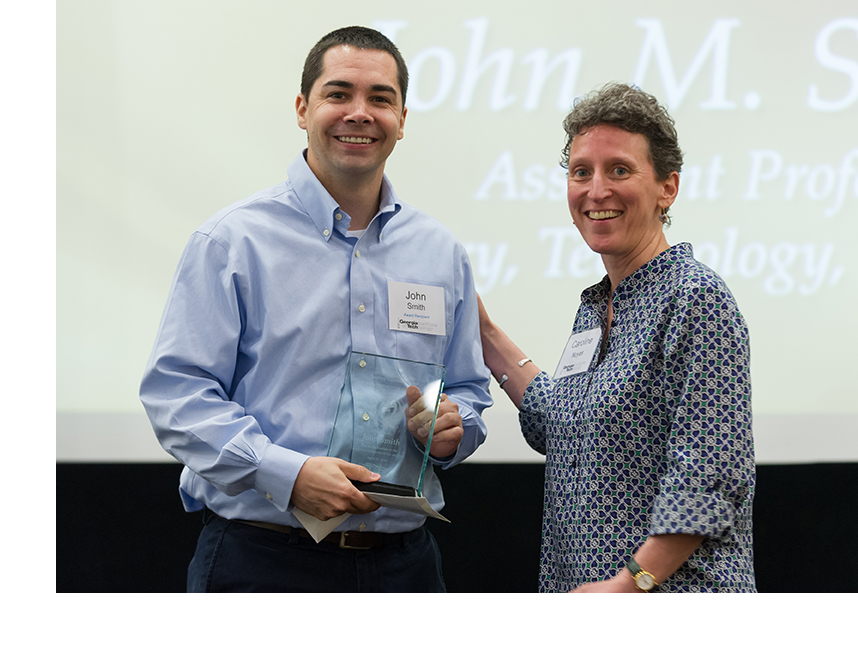 This award, offered through the joint support of the Center for Teaching and Learning (CTL) and BP America, provides Georgia Tech with the opportunity to highlight the excellent teaching and educational innovation that junior faculty bring to campus. CTL's goal is to grant up to six $3,000 awards annually, depending on the funding available and the quality of nominations. If an academic unit nominates more than one faculty member, the unit must rank the nominees when providing the nomination packets to the selection committee.
Questions? Contact Joyce Weinsheimer.
Timeline
Nomination packets are due by 5 p.m. on March 2, 2020.
Awards will be presented at the Faculty/Staff Honors Day Luncheon in April.​
Names and nomination packets of the award winners will be posted on the CTL Faculty Award website following the Faculty/Staff Honors Luncheon.
Names of winners will be added to the Teaching Awards wall located in the Clough Undergraduate Commons.
Eligibility Criteria
Candidates must be full-time tenure-track faculty members who do not have tenure. (This includes BME faculty with joint Emory appointments.)
Candidates should have completed at least three semesters of teaching at Georgia Tech and at least one academic year on the tenure-track at the Institute.
Self-nominations are permitted.
First-time nominations are preferred.
Nomination Materials
The nomination packet (which should be no more than 15 pages) should be submitted electronically as a PDF file through the Georgia Tech awards portal: https://gatech.infoready4.com/ It should include the following items:
Letter of nomination.
A reflective statement on teaching from the candidate.
Illustrations of the candidate's teaching excellence and the impact on student learning.
If applicable, provide evidence of impact on engineering undergraduate students. (This evidence can be included in other elements of the packet, and it will only be used to determine the source of funding for the award.)
Five letters of support (these letters do not count toward the page maximum listed above). These letters should be from the following individuals: (1) Candidate's department head or chair (if this person is the nominator, the nomination letter will suffice for this requirement); (2) One colleague who has observed the candidate in the classroom. (3) Three students, at least one of whom must currently be a student at Georgia Tech, and at least two of whom should be undergraduate students (if the candidate's program teaches undergraduates).
Selection Criteria
In the past, the committees that have judged the candidates for this award have stressed the characteristics below. While there is no guarantee that future committees will look at the packets in the same way, these are some of the basic properties and activities that are considered:
Educational innovations.
Impact on students' lives, both in and beyond the classroom.
Passion for teaching and learning.
Connections between research and teaching.
Educational outreach beyond the classroom and laboratory.
Teaching excellence in core classes, required classes, and large classes.
Accessibility to all students, even those who were not performing well in the class.
Good Georgia Tech citizenship.
---
Previous Winners
2020
Marta Hatzell, Assistant Professor, Mechanical Engineering (Nomination Packet)
Since starting at Georgia Tech, Dr. Marta Hatzell strived to find new and innovative teaching methodologies to establish a supportive yet challenging learning environment for her students. She participated in multiple teaching programs at Tech, including the Class of 1969 Teaching Fellows Program, works to better engage students in her Mechanical Engineering courses by applying topics learned in thermodynamics to sustainability and social justice issues. Additionally, Dr. Hatzell recently worked with a group of faculty to redevelop a chemical engineering course focused on electrochemistry into an updated electrochemical engineering course, open to a wider variety of engineering majors. She is a mentor to students every semester, many of whom have won academic awards under her tutelage. One graduate student says, "Dr. Hatzell's dynamic style of teaching allows students to truly participate in class and enhances the process of learning thermodynamic concepts and principles."
Dan Kotlyar, Assistant Professor, Mechanical Engineering (Nomination Packet)
Dr. Dan Kotlyar encourages his students to truly engage and understand the material they learn in his mechanical engineering courses by conducting class workshops and developing computational codes and models for students to apply and modify in their assignments. Both practices help students to reinforce what they are learning in the classroom and learn how it can apply to the real world. He challenges his undergraduate students in a way that allows them to gain a graduate-level understanding of reactor physics and actively encourages them to do their own research projects and write for publication; many of his students have received high praise for their work, five of them winning the President's Undergraduate Research Award (PURA). His students describe him as, "a warm and welcoming instructor with the ability and desire to present complicated information in a way that [is]straight forward to his students."
AJ Medford, Assistant Professor, Chemical and Biomolecular Engineering (Nomination Packet)
Dr. Andrew "AJ" Medford recognizes the large role computing and data science play in the engineering field and wants to provide students with a basic understanding of these topics. He has developed elective courses that help students better understand data science and machine learning in ways that are engaging to them. Dr. Medford applies computational methods students are learning to problems with societal impact and real-life research implications, addressing issues of sustainability and how certain chemical processes interact with the environment. One of his classes is now a core course for the Data Science for the Chemical Industry online certificate program. He runs workshops, attended by students and faculty, that teach the basics of data analysis and software development. David School, the chair of Chemical and Biomolecular Engineering, believes Dr. Medford's courses "will propel our students to professional success and intellectual satisfaction."
Annalise Paaby, Assistant Professor, Biological Sciences (Nomination Packet)
Dr. Annalise Paaby has taught Experimental Design & Statistical Methods for four semesters, a course often viewed with trepidation by students. However, Dr. Paaby strives to help her students grow more comfortable by providing fun, real-world examples and connecting the content of the course to research in the biology field to create class engagement. She consistently adjusts her teaching methodologies to be more suited to the needs of her class, creating a more dynamic teaching environment. In addition to her work in the classroom, Dr. Paaby meets with each of her research lab trainees one-on-one to help them explore their career goals in biological studies and ways they can work towards achieving them. She is greatly admired for her attentiveness, as one student shared, "She goes above and beyond the typical commitment to student success and is one of the things that makes her class so successful."
Kate Pride-Brown, Assistant Professor, History and Sociology (Nomination Packet)
Despite coming in with very little teaching experience, Dr. Kate Pride-Brown has taught five courses in the past four years, ranging in size and education level, and has earned high praise from her students. Dr. Brown creates a narrative arc for her students to follow that explores different topics within the course through storytelling and helps them develop shared understanding and engagement in the complex subject matter. She also encourages her students to talk about their experiences and feelings, establishing a nurturing learning environment for them to engage in open discussion. She concentrated on environmental studies within sociology during her time in grad school and is currently planning to develop a regularly offered environmental sociology course. Her school Chair Dr. Eric Schatzberg says, Dr. Brown "is a rising star in the School of History and Sociology, a brilliant teacher, very productive and innovative scholar, and a dedicated provider of service."
Siva Theja Maguluri, Assistant Professor, Industrial and Systems Engineering (Nomination Packet)
Since his start at Georgia Tech in 2017, Dr. Siva Maguluri has taught four different Industrial and Systems Engineering courses for both graduate and undergraduate students and is very active in both student communities. He has co-developed a bridge course for incoming PhD students and helped develop lecture notes for another first year PhD course. Additionally, Dr. Maguluri mentors ISyE students and works with the Summer Undergraduate Research in Engineering/Sciences (SURE) program to advise students on their research projects. He recently designed a mentoring program to help prepare Ph.D. students for careers as faculty members and has created a course that support students navigating careers in the academic field. H. Milton and Carolyn J. Stewart School Chair, H. Edwin Romeijn, states that Dr. Siva Theja Maguluri is "passionate about all aspects of teaching including classroom teaching, curriculum development, improving our programs, outreach activities, and individual student mentorship."
Wei Wang, Assistant Professor, Industrial Design (Nomination Packet)
Dr. Wei Wang has taught many of the Industrial Design hand-on courses, such as Industrial Design Studios and Interactive Product Design. He helped the School of Industrial Design make major revisions to the curriculum for the Interactive Product Development Stream through his development of three new courses, two of which have since become mandatory core courses and all of which have led to award-winning student projects. Dr. Wang encourages his students to engage themselves in research and involves all his students in his research endeavors by incorporating the concepts he's exploring into his courses. He has mentored many of his students and has co-authored and assisted them with their own research projects. Dr. Kevin D. Shankwiler says, "It's been a pleasure to work with Dr. Wang as a teaching colleague, and from my view as Program Coordinator, he has been a strong team member of the School."
2019
Joe Lachance, Assistant Professor, Biological Sciences (Nomination Packet)
Dr. Joe Lachance is renowned in the School of Biological Sciences for his amazing mentorship and innovative teaching skills. A key element in his teaching is the use of active learning exercises with computer simulations or analysis of real-world genetic data. Dr. Lachance has taught and mentored people of all learning levels across the world, and there is a unanimous admiration of his creativity and his dedication to helping them succeed, both inside and outside of the classroom. He provides his students with a comfortable environment to grow and challenges them to push their creativity and intelligence to new heights.
Martin Mourigal, Assistant Professor, Physics (Nomination Packet)
The School of Physics offers some of the most difficult courses offered at Georgia Tech, but Dr. Martin Mourigal consistently receives high praise from his students for his teaching skills. His old-fashioned technique of writing on the board in sections in different colors seems simple, but it is highly effective and refreshing in the era of technology. Dr. Mourigal works hard to make sure his students leave the class feeling confident in their understanding of the content. He's admired for his quirky and engaging teaching and has an enthusiasm for physics that resonates with his students, years after they've left the classroom.
Morvarid Rahmani, Assistant Professor, Scheller College of Business (Nomination Packet)
Dr. Morvarid Rahmani does three things to help her students succeed in MBA classes: create a friendly environment for students to learn in, develop innovative assignments, and relate in-class concepts to real-world situations. She observes the business challenges of Operations Management regularly and modifies the content of her courses to discuss these challenges. Dr. Rahmani's courses are constantly evolving to match that of the constantly evolving business world, and she genuinely cares about her students' comprehension of both in-class and real-world events. One student states, "I wholeheartedly believe we are all better students and critical thinkers because of her."
Amit Reddi, Assistant Professor, Chemistry and Biochemistry (Nomination Packet)
Students of all levels regard Dr. Amit Reddi as someone who stimulates his students' desire for knowledge by shaping the curriculum assignments around actual discussions happening in the biochemistry world. His passion for his subject resonates with his students, as does his passion for their success. Dr. Reddi pushes his students to consider biochemistry not as facts set in stone, but as malleable concepts that are constantly changing as biochemists learn more about them. His students say that he comes across as humble and kind, and he is consistently pushing himself to improve his teaching methods, something that his high CIOS reviews show pays off.
Chaowen Ting, Assistant Professor, Music (Nomination Packet)
Five years ago, Dr. Chaowen Ting helped to develop Georgia Tech's orchestra program into the talented group of performers that it is today. The orchestral director is known for her passion and her ability to work with students of all skill levels in music. Her love for music shines clearly through her performance, both in rehearsal and in concert, and her desire to teach students about more than how to play the music, but also to understand the significance of it. Dr. Chaowen Ting evokes passion in her students and encourages them to pour this into every rehearsal.
Gabriel Kwong, Walter H. Coulter Department of Biomedical Engineering (
Nomination Packet
)
2017
Nassim Jafari Naimi, Literature, Media, and Communication (Nomination Packet)
Jenna Jordan, International Affairs (Nomination Packet)
Taesoo Kim, Computer Science (Nomination Packet)
Mark D. Losego, Materials Science and Engineering (Nomination Packet)
O. Cem Ozturk, Scheller College of Business (Nomination Packet)
Susan N. Thomas, Mechanical Engineering (Nomination Packet)
2016
Mark A. Davenport, Electrical and Computer Engineering (Nomination Packet)
Ryan Lively, Chemical and Biomolecular Engineering (Nomination Packet)
2015
Jeremy D. Ackerman, Biomedical Engineering (Nomination Packet)
Grigoriy Blekherman, Mathematics (Nomination Packet)
Margaret E. Kosal, International Affairs (Nomination Packet)
Marius Florin Niculescu, Scheller College of Business (Nomination Packet)
Dong Qin, Materials Science and Engineering (Nomination Packet)
John M. Smith, History, Technology, and Society (Nomination Packet)
2014
J. Brandon Dixon, Mechanical Engineering (Nomination Packet)
Flavio H. Fenton, Physics (Nomination Packet)
Brian K. Hammer, Biology (Nomination Packet)
Kamran Paynabar, Industrial and Systems Engineering (Nomination Packet)
Anne Pollock, Literature, Media, and Communication (Nomination Packet)
Kari E. Watkins, Civil and Environmental Engineering (Nomination Packet)
2013
Julie Champion, Chemical and Biomolecular Engineering
Shatakshee Dhongde, Economics
Karen Head, Literature, Media, and Communication
Manpreet Hora, Scheller College of Business
Olivier Pierron, Mechanical Engineering
Christopher Rozell, Electrical and Computer Engineering
2012
Jin Liu, Modern Languages
Christopher J. Peikert, Computer Science
Michael Stilman, Interactive Computing
Mark P.W. Styczynksi, Chemical and Biomolecular Engineering
Todd A. Sulchek, Mechanical Engineering
Jochen Teizer, Civil and Environmental Engineering
2011
Michael A. Filler, Chemical and Biomolecular Engineering
Eric M. Overby, Management
2010
Kelley R. Comfort, Modern Languages
Johnna S. Temenoff, Biomedical Engineering
Yonathan S. Thio, Polymer, Textile, and Fiber Engineering
2009
Facundo M. Fernandez, Chemistry and Biochemistry
Laurie A. Garrow, Civil and Environmental Engineering
2008
Michael P. Hunter, Civil and Environmental Engineering
Hang Lu, Chemical and Biomolecular Engineering
Valeria Tohver Milam, Materials Science Engineering
2007
Matthew Baker, Mathematics
Jaehong Kim, Civil and Environmental Engineering
Chris Paredis, Mechanical Engineering
2006
Victor Breedveld, Chemical and Biomolecular Engineering
Joel Sokol. Industrial and Systems Engineering
Lena Ting, Biomedical Engineering
Marcus Weck, Chemistry and Biochemistry
2005
Pinar Keskinocak, Industrial and Systems Engineering
Sylvia Maier, International Affairs
Nael McCarty, Biology
2004
Christopher Jones, Chemical and Biomolecular Engineering
Harish Radhakrishna, Biology
2003
Nora Cotille-Foley, Modern Languages
David Scott, GTRET
2002
Andres J. Garcia, Mechanical Engineering
William E. Singhose, Mechanical Engineering
2001
Marc Levenston, Mechanical Engineering
Donald R. Webster, Civil and Environmental Engineering
2000
Kirk Bowman, International Affairs
Imme Ebert-Uphoff, Mechanical Engineering
Mark Prausnitz, Chemical and Biomolecular Engineering
1999
Gordon Kingsley, Public Policy
John Olds, Aerospace Engineering
Suzanne Shuker, Chemistry and Biochemistry
1998
Tom DiChristina, Biology
Karen Dixon, Civil and Environmental Engineering
Mary Lynn Realff, Polymer, Textile, and Fiber Engineering
1997
Stephen Quirk, Chemistry and Biochemistry
Stephen Ruffin, Aerospace Engineering
Anne Steinemann, Architecture
1996
Dana Hartley, Earth and Atmospheric Science
Ken Hughes, Chemistry and Biochemistry
Scott Wills, Electrical and Computer Engineering
1995
Bert Bras, Mechanical Engineering
Patricia Dove, Earth and Atmospheric Science
1994
Jacqueline Bridge, Mechanical Engineering
William Roberts Clark, International Affairs
Ashhok Goel, Interactive Computing
1993
David Collard, Chemistry and Biochemistry
Narayan Jayaraman, Management
1992
Richard Catrambone, Psychology
Jianmin Qu, Mechanical Engineering
1991
Bonnie Heck, Electrical and Computer Engineering
Larry Jacobs, Civil and Environmental Engineering
1990
Erian Armanios, Aerospace Engineering
Margaret Graff, Physics