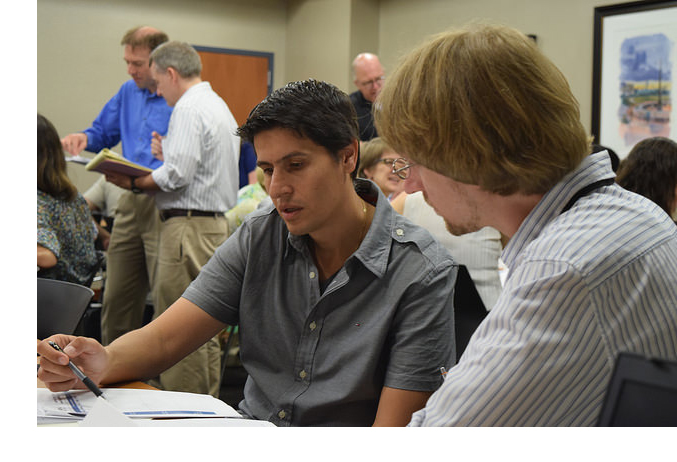 During the academic year, the Center for Teaching and Learning (CTL) offers workshops for all Georgia Tech instructors. These interactive workshops are designed to let you collaboratively explore and share practical, evidence-based best practices on pedagogical themes, and to gain new insight as you are equipped and inspired to try new things in the classroom.
We welcome faculty from across campus to partner with us as we develop new workshops for the Georgia Tech community. In addition, we are happy to work with you to develop a teaching and learning workshop for your unit. Please contact us via ctlhelp@gatech.edu to explore these opportunities.
---
Fall 2017 workshop schedule coming soon!
---
Past Workshops
Engaging Students in Online Discussions (April 2017)
Online discussions can extend classroom conversations and learning by giving students more time for critical thinking and more opportunities to interact with the instructor, TAs, and their peers. As a result of the communication and interaction, students will be able to develop a connection with each other and form a learning community. In this workshop, we will share with you findings from a research project on how faculty and students use online discussions at Georgia Tech. We will also discuss best practices for effectively facilitating online discussions to engage students.
Designing and Developing Videos for Teaching and Learning: Strategies and Resources (February 2017)
Videos have been predominantly used for instruction in online and flipped classes. However, many instructors find it challenging to design and develop quality videos for effective learning because it requires significant investment of time, efforts, and resources. In this workshop, we will invite instructors, instructional designers, and video production professionals for a discussion on pedagogical strategies, development guidelines, and resources for creating interactive videos to engage students and improve their learning experience.
Helping Students Struggle: Focusing Effort on What Really Matters (November 2016)
Some of the struggles students experience when they take courses at Georgia Tech are useful and contribute to their learning. Other struggles, however, feel unproductive to students—and then they adamantly complain about you and/or the course at the end of the term in their evaluations. What makes the difference? When do students view their work in a course as worthwhile? What makes students feel that you want them to succeed? How can you help students value their course experience with you? Join your colleagues for a lively discussion about rigor, struggle, and the rewards of teaching.
Teaching Students Across Multiple Backgrounds and Abilities (October 2016)
In order to be successful in many of our courses, students need to be able to build on knowledge and skills they acquired in previous courses and experiences. However, many times, faculty discover that their students enter their classes at different levels of preparation to meet our expectations. In this workshop, we will explore strategies to help these students activate or acquire the requisite prior knowledge, while keeping the course moving at the right pace to meet the needs of more prepared students.
Encouraging Intellectual Development and Critical Thinking (September 2016)
The ability to think critically is a key skill for individuals making their way in the world today. In this workshop, we will explore the nature of critical thinking, the stages of intellectual development our students typically exhibit, the connection between the two, and the best ways to support our students' development in the context of the classes we teach.